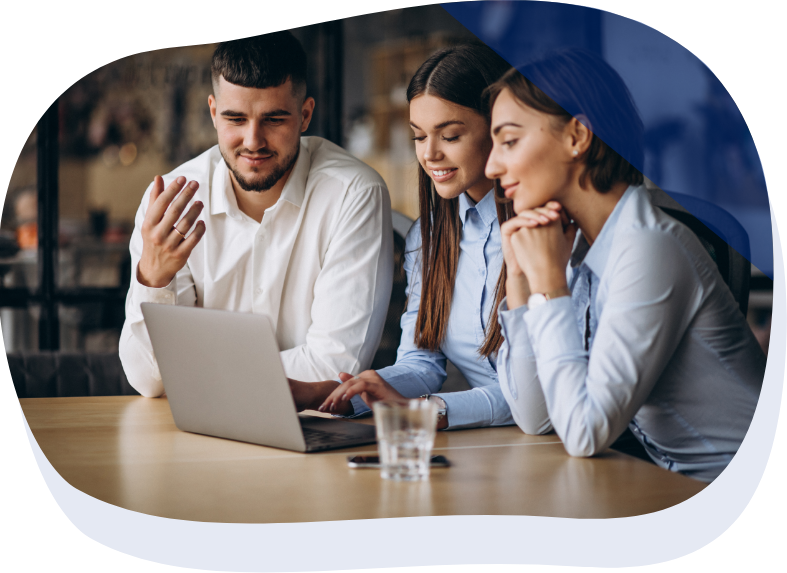 We create a friendly environment and build a better future together to make Infolks Group a happier place for everyone.
WHO WE ARE?
We create a friendly environment and build a better future together to make Infolks Group a happier place for everyone.
Our Story
2016
Beginning
The inception of Infolks Group was at the ancestral home of MD with 6 employees.
2017
New Office
Relocated to a new modern office premises with 110 employees.
2018
Head Office
Opened a new office with more facilities, that accommodate more employees.
2019
Rebranding
Extended the office structure and re-branded the logo.
2021
ODC
Began a fully functional Offshore Development Center with 250+ employees, for a German based automotive giant, Continental AG.
2022
Cyber Park
Started a new satellite office at UL Cyberpark, Calicut.
2022
Expansion
Started 3 new entities for Medical Annotation, Software Development and Data Collection.
Mission
Rural development
Infolks Group strives to bring comprehensive and prideful development to our village by introducing the culture, growth, and opportunities of the outer world while protecting all of the rural purity, beauty, and love.
Vision
A company with a Heart
Infolks Group aims to uphold its commitments by offering genuine, truthful, and value-oriented services to the clients, the best work environment in the world to the employees, and a wide range of opportunities and possibilities to the society. Which makes us the best service provider in the world and a company with a Heart.
Worklife @ Infolks Group
Here is why everyone says working in Infolks Group is the best.
Gender Equality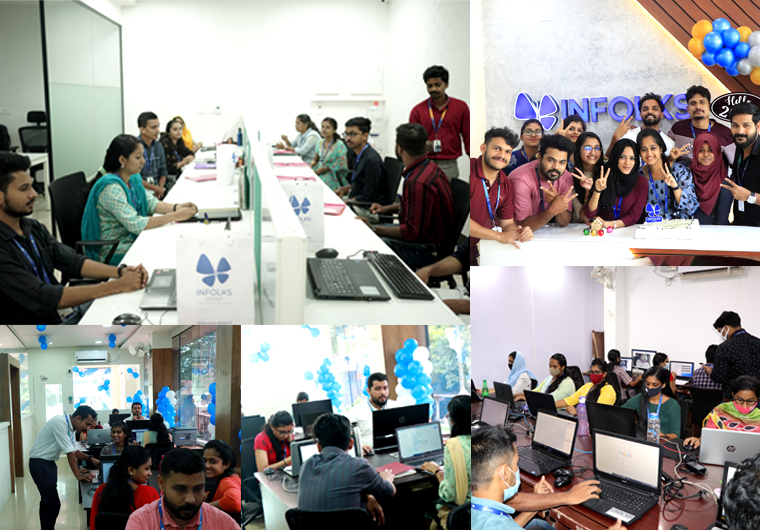 We're providing equal opportunities for each and every employee, without considering their gender. Hiring and promotion of employees will be based only on individual ability, performance, and qualifications.
Strength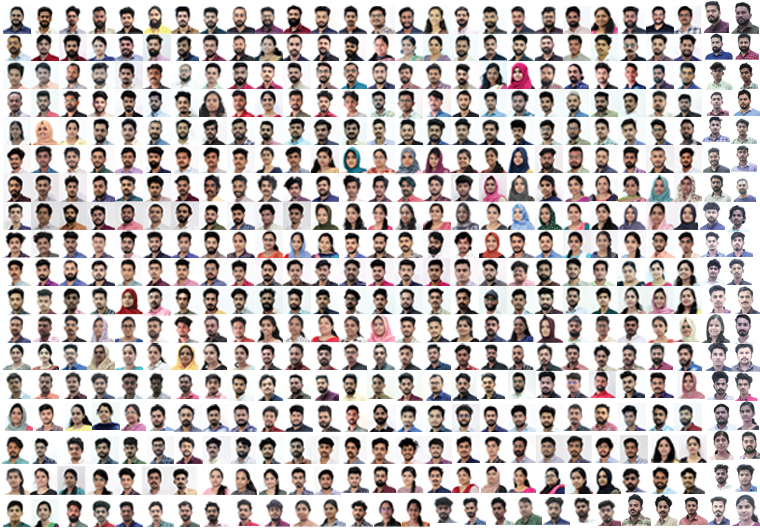 We're proud to be an organisation that takes pride in its young work-force. We provide a great platform for freshers and make them excellent professionals by providing a wide horizon to grow and develop their skills.
Employee Benefits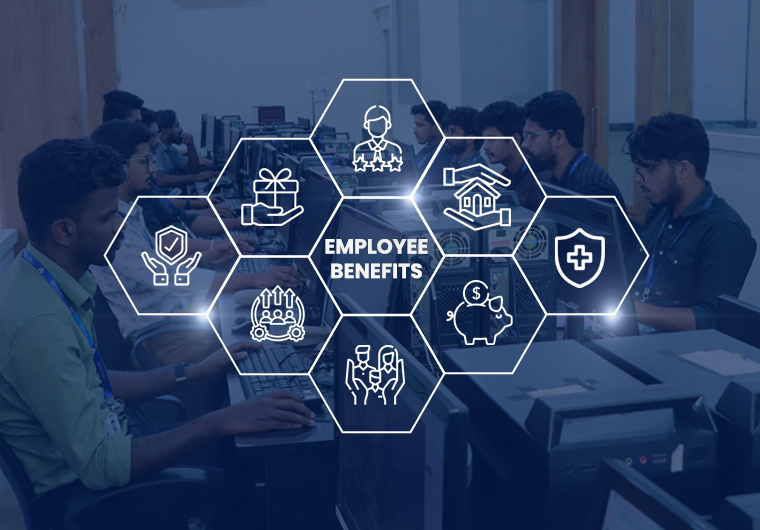 We have fair, transparent, and clear employee policies. Workers are given the freedom to decide how they do their best works and then do it that way. Those who exceed expectations are recognized, even in non-monetary ways. Infolks Group supports employee growth, development and gives them clear feedback and suggestions. Good work culture, pleasing company management, stress-free environment, insurance for both employees and their dependents - Employees' State Insurance (ESI), Provident Fund (PF), Travel Allowance (TA), House Rent Allowance (HRA), and the best salary package for freshers make Infolks Group an exciting place.
Work Life Balance
Usually, employers expect more from their employees. Which leads to them feeling more work-pressure to accomplish greater results. Consequently, this leads to longer working hours, and less time spent at home. The average working hours of employees in India are among the longest compared to global peers. Here at Infolks Group, we keep international working hours instead of the Indian standard. So you can work only 7 hours in a shift. We believe that maintaining a healthy work-life balance is not only important for health and relationships, but it can also increase productivity, and ultimately performance.
Infiesta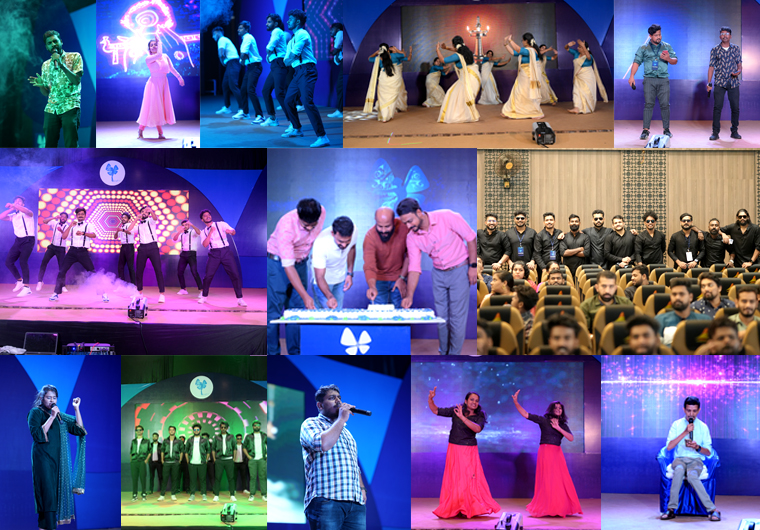 Infiesta is the annual day celebration of Infolks Group. Folks come and go in different shifts. When working in a company, team members are not regularly in contact with all members of the organization, especially if the company is large-sized. So, many employees might not know one another. Folks blast and celebrate the Infiesta no one could forget. They create good moments and fun experiences.
Football Team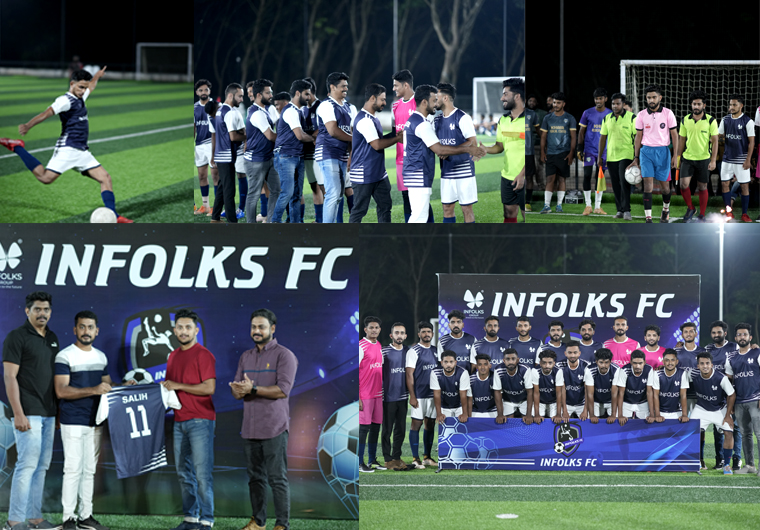 In most of the companies, when the boss says, "Let's play some team building games!", employees start re-running episodes of work in their heads. For us, effective team building means more engaged employees. Infolks Group has its own football team, and it will improve the physical and mental health of employees.
Infolks Football League (IFL)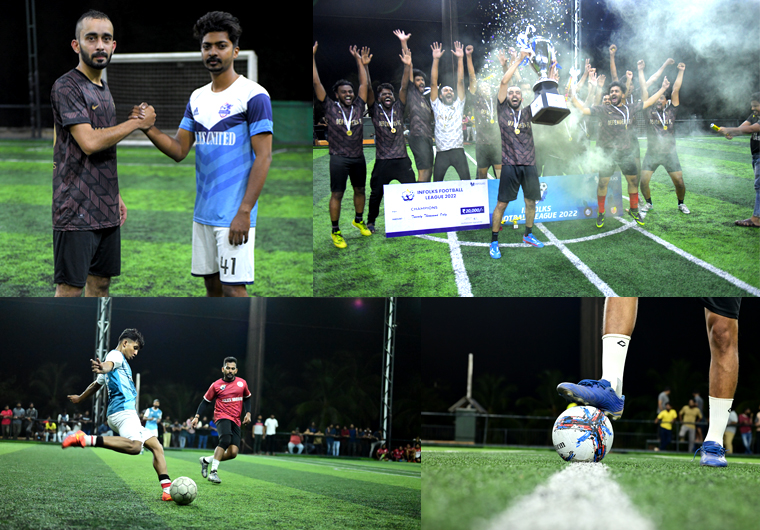 The IFL (Infolks Football League) is the annual football tournament of Infolks Group. An organisation's success depends on the staff's ability to put their minds together and give their best to solve a problem. These kinds of games often break the ice and help members open up to each other.
Celebration Corner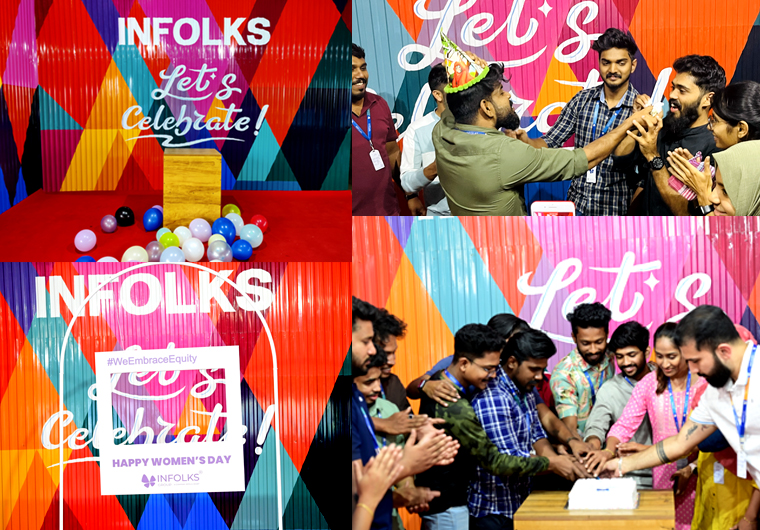 We celebrate everything starting from employee birthday, festivals, project completion, new joining, work anniversary, job promotion, business achievements, etc. Sometimes we celebrate for no reason. Why do we need a reason all the time to celebrate? Folks believe that celebration is an event which gives more reasons to live, more reasons to work, and the reason to achieve more. We at Infolks Group, celebrate every moment with our extended family and try to highlight that this kind of corporate culture is also there and we are keeping it alive.
Annual Team Outings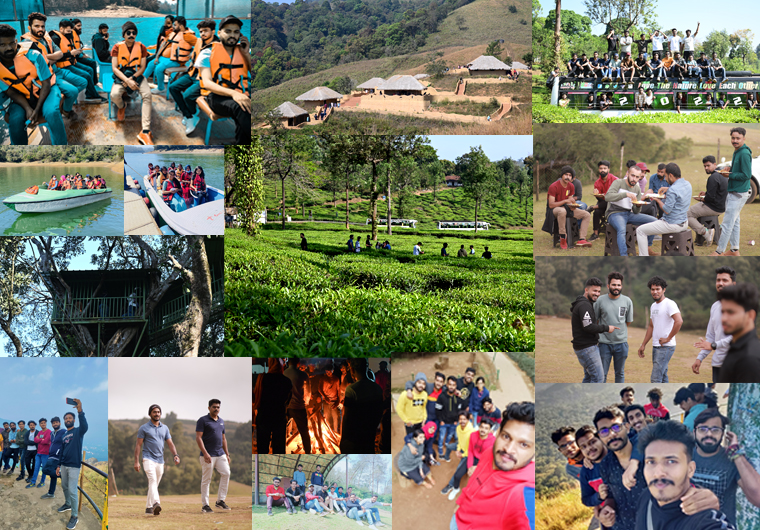 Our team outing is the magic wand. Through which the employees not only de-stress and have fun, but also understand each others strengths and weaknesses better, gel together, and return with a different perspective. This trip is an effective way of socializing with colleagues and managers in a casual way, outside of working hours. This will free up the folks to be just the way they are.
Relaxation & Gaming Area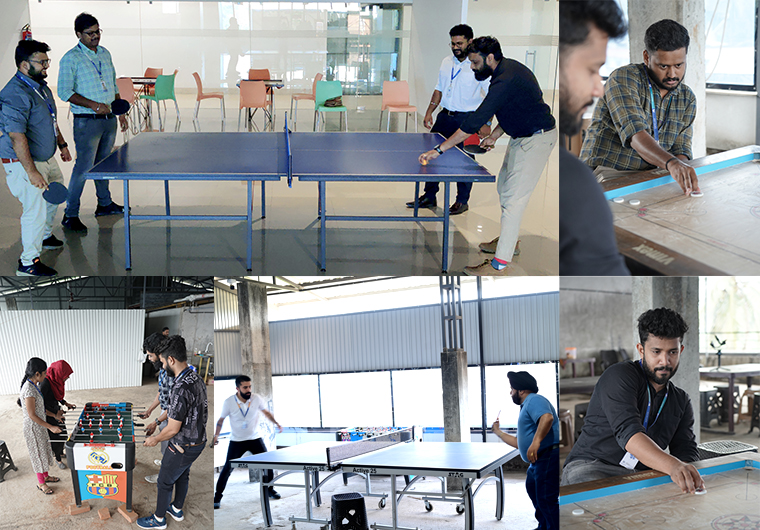 Relaxing in a comfortable area or playing a game for a few minutes can give employees a mental reset. Additionally, a game area provides a space for workers to bond as they play games , helping to build stronger team relationships and improve the overall morale and culture of the company. Infolks Group gives great priority to the wellness and mental health of folks. They can get some physical exercise during the workday and enjoy a place to escape the daily grind and decompress.
Infolks Fitness Center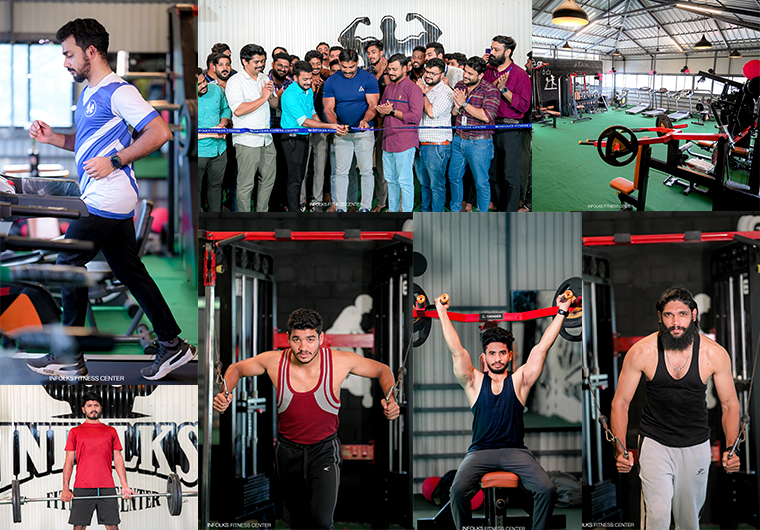 Sitting at the desk for long hours, staring at the computer screen with hardly any body movement is nothing but an invitation to illness. Employee health and wellbeing are our primary concerns. We're taking care of the employees by equipping gyms in our office. It boosts folks' morale and instills a sense of giving their 100% to the company.
What Makes Us Unique?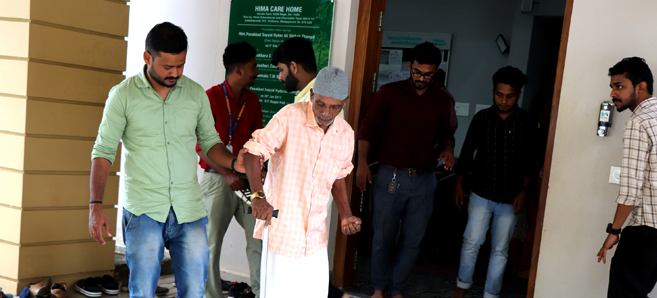 Social Responsibility
Being a tech giant is not the only goal of Infolks Group. We strongly believe that we hold a huge responsibility towards our society and can make someone's dream come true. We have an internal charity team. With clear supervision from our charity council, Infolks has taken over 25 families to date. The ultimate goal of Infolks Group is to empower communities and abolish poverty. This divine effort and fruitful dedication towards the community made Infolks look after many deserving people.
Head Office

Infolks Tower, Mannarkkad

Kerala, India 678583

ODC - Continental AG

Kalladi Building, Mannarkkad

Kerala, India 678583

Satellite Office

UL Cyberpark, Calicut

Kerala, India 673016

Dataways & Webfolks

Nalakath Building, Mannarkkad

Kerala, India 678583
Head Office

Infolks Tower, Mannarkkad

Kerala, India 678583

ODC - Continental AG

Kalladi Building, Mannarkkad

Kerala, India 678583

Satellite Office

UL Cyberpark, Calicut

Kerala, India 673016

Dataways & Webfolks

Nalakath Building, Mannarkkad

Kerala, India 678583
All rights reserved by Infolks Group. Copyright © 2023